Find and Retain Employees
DISCOVER AND HIRE GREAT EMPLOYEES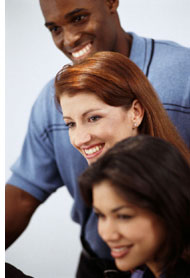 No matter what kind of organization you have, your greatest asset is your workers. How do find good workers? Do you have a system in place to match the job and organization to the position? We at SilverQuest help you take the guesswork out of hiring. We can develop a comprehensive strategy to help you identify, screen, train and place the best workers in your company.
Placing the right employees in the right jobs requires a hiring system process connected to your strategic plan. It means matching the person not only to the job but also to the organization's values and long term goals. For more information on how we can help see:
RETAIN YOUR MOST VALUABLE ASSET—YOUR EMPLOYEES
Employees stay in organizations they like and admire. They stay when they feel appreciated and connected to the strategic objectives of the organization. They stay when they are working in a job that builds on their strengths and passions. All of these characteristics relate to one thing—motivation. When employees work in an energizing environment with these characteristics, they are self-motivated. We can help you design strategies that increase employee satisfaction and retention. For more information see:
EVALUATE YOUR EMPLOYEES TO ENHANCE MOTIVATION
Most performance evaluations succeed only in making people feel bad and frustrated. The best organizations create performance evaluations that are directly connected to the strategic plan and organizational success. The key is designing appropriate metrics to measure an employee's contribution to the team or organization as a whole. We can help you do that and turn performance evaluations into a time of joy and celebration instead of fear and fatigue. For more information see:
TRAIN YOUR EMPLOYEES TO ACHIEVE ORGANIZATIONAL RESULTS
The organization that trains its employees already has a competitive advantage. The employees function at a higher level because they feel competent and confident. They make better decisions and communicate more effectively.
Do your employees know how to do the job? How do you know? Many organizations do not adequately train their employees. The organizational training is non-existent, sporadic, irrelevant, or so boring it does not produce success.
The best training model does not just increase knowledge, change attitudes and behavior; it produces results that are clearly measured in metrics tied to the strategic plan. We at SilverQuest are training specialists. We know how to communicate content in an interesting and entertaining way. We can help you develop customized training curriculum and delivery systems. For more information on customized training, click on: