Testimonials
Donald's presentation was delightfully entertaining, engaging, and motivating. . . the evening was filled with laughter and enjoyment. As a direct result of a very satisfied audience, four members of the audience stepped up to volunteer their time and skills to the Dallas Section ASQ. Thank you, Donald!
Kiami Rogers, Chair, American Society for Quality Dallas Section 1402
WHAT OUTCOMES DO YOU SEEK?
Customized Training
A lot of training does not work well because the training approach is not connected with the organization's strategy or performance requirements. Training may alter attitudes, knowledge or behavior but the only metric that really matters is results—that is, the performance of employees and the organization improved in ways that can be measured.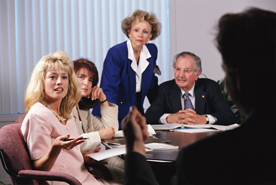 Our training works because we establish outcomes, metrics, and delivery systems before we ever start training. We can evaluate your current training programs, create new customized training programs and curriculum, and provide customized training to meet your needs. The benefits of an excellent training program can be huge and immediate.
Benefits
Depending on the type of training we implement, the benefits are as follows:
Increased sales and profits through greater expertise and efficiency
Improved employee retention
Faster time to market through more efficient processes
Higher quality across organization and reduces errors
Increased speed and accuracy of delivering your products and/or services
Improved level of problem-solving
Costs and waste are reduced
Increased customer loyalty and retention
Improves employee morale
Improves communication quality throughout organization
Approach
Our approach to training depends on your desired outcome of evaluation, curriculum, customized programs, or customized training provided by SilverQuest. Our approach is to:
Set learning objectives outcomes based on your organizational goals and specific performance requirements
Establish metrics to measure the effectiveness of the training
Design a curriculum to meet the learning objectives and achieve the metrics
Design a delivery system to implement the training—on-the-job, self-study, video, classroom, mentoring, webcast, etc.
Would you like high quality, results-producing training in your organization? Let's Talk