Testimonials
Donald's presentation was delightfully entertaining, engaging, and motivating. . . the evening was filled with laughter and enjoyment. As a direct result of a very satisfied audience, four members of the audience stepped up to volunteer their time and skills to the Dallas Section ASQ. Thank you, Donald!
Kiami Rogers, Chair, American Society for Quality Dallas Section 1402
WHAT OUTCOMES DO YOU SEEK?
Employee Hiring and Retention
Bad hiring decisions and constant employee turnover are the bane of the existence of many organizations. Do you have a consistent, successful process for hiring and retaining employees? An effective hiring system means understanding what jobs will make the most difference in your organization, articulating clearly the duties and qualifications for those jobs, and then finding the right person that matches up with each job.
The best organizations take hiring seriously and screen people carefully. High Employee Retention occurs when you understand clearly what motivates your employees. No single technique works for everyone, but there is research showing the discrepancy between what managers think employees want versus what employees really want.
The following survey first came out in 1946 in Foreman Facts, from the Labor Relations Institute of NY and was produced again by Lawrence Lindahl in Personnel magazine, in 1949. This study has since replicated with similar results by Ken Kovach (1980); Valerie Wilson, Achievers International (1988); Bob Belson, Blanchard Training & Development (1991); and Sheryl & Don Grimme, GHR Training Solutions (1997-2001).
WHAT MANAGERS THINK
EMPLOYEES WANT

MOTIVATING FACTORS
FOR EMPLOYEES

WHAT EMPLOYEES
REALLY WANT

1

Good Pay

5

2

Job Security

4

3

Promotion and Growth

6

4

Good Working Conditions

7

5

Interesting Work

1

6

Tactful Discipline

10

7

Loyalty to Employees

8

8

Full Appreciation of Work Done

2

9

Help with Personal Problems

9

10

Feeling of Being In on Things

3
Benefits
Creates clear expectations for each employee for job performance and evaluation
Corrects and eliminates poor performance of employees
Identifies needs for training and development
Provides strategy for employees to grow and advance in organization
Increases morale because employees feel important and understand their impact on the organization
Increases productivity because motivated employees have more energy and are more focused in their job
Places employees in the organization according to their strength and contribution
Approach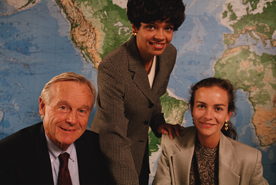 The best approach is one that combines hiring and retention strategies together in one seamless process that moves the employee forward at every stage. However, we can address these issues separately as needed. Our approach to hiring systems is to:
Analyze organizational strategy to determine Human Capital required to accomplish strategy
Identify specific competencies and traits needed for all new employees
Create a system to identify and evaluate potential new employees that includes interviews, personality testing, screening, and real work situations
Create a training system to train new employees
Employee Retention is primarily about motivation. A motivated employee is a happy, productive, and long term employee. Our approach to employee retention is a systematic way to improve motivation. The very best approach links each employee's compensation upon their individual and group performance against quality goals and standards. Another key factor is placing employees in a position and on a team that builds on his or her strengths. We implement an approach that will:
Align structure of organization with strategy
Identify each employee's contribution to the strategy
Examine each employee's unique strengths
Adjust each employee's job description to maximize strengths or place employee in a different position or team that allows building on strengths
One key factor is an employee performance management system that supports high performance work, a customer and business focus, and appropriate incentives. We create an effective system that will:
Link each employee's compensation based on their individual and group performance against quality goals and standards.
Emphasize employee development and performance improvement instead of ratings
Link at-risk compensation to overall performance measures that employees can strongly influence or control
Create a system that is consistent with the organization's structure and work flow
Reward exceptional levels of individual and group performance
Involve employees in designing the recognition programs
Link recognition based on performance of key measures
Do you want to create an effective system to hire and/or retain your employees?