Keynote Speaking
If you are looking for a keynote speaker for a conference, seminar, or training event, we can provide you satisfaction with sizzle. We have both Popular Presentations and Customized Presentations. We are available to speak in the following venues or roles:
| | |
| --- | --- |
| Keynote Speaker | General Conference Speaker |
| Trainer at Workshop or Conference | University Instructor |
| After Dinner Speaker | Trade Association Speaker |
| Facilitator at Meetings | Motivational Speaker |
POPULAR PRESENTATIONS
We can provide the following presentations in either a keynote speech or workshop format:
ETHICAL LEADERSHIP — Make the Right Choices, Model the Right Character, and Manage the Right Culture
Learn how to make ethical decisions and create an ethical culture in your organization
STRATEGIC PLANNING — How to Begin and Maintain Your Planning Process
Discover how to do strategic planning based on a proven method that works every time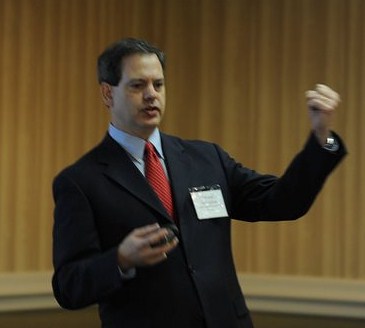 CONFLICT RESOLUTION FOR TEAMS — Prevent and Resolve Conflict for Success
Identify symptoms and sources of conflict and develop creative solutions to focus and strengthen teams. Learn how to address the following team challenges:
Goals — fuzzy or unrealistic
•Roles — unclear or unacceptable
•Resource Allocation — insufficient or inefficient
•Leadership — weak process for task and relationship management
A Lion's View of Leadership — The Seven Habits of a Real Lion
Lions are not the biggest animal in the jungle, but they are the Kings of the Jungle. Learn the seven basic principles for leadership that real lions know. A Real Lion inspires respect, communicates vision, values teamwork, helps others, overcomes fatigue, demonstrates courage, and develops skills. Listen to a sample of this presentation by clicking here.
CUSTOMIZED PRESENTATIONS
If you have a specific subject and outcome in mind, we can customize our presentations to achieve your results. Our topics for presentations include the following:
| | |
| --- | --- |
| Strategic Planning | Leadership Development |
| Innovation for Growth | Teambuilding |
| Financial Planning | Conflict Resolution |
| Market Positioning | Personality Testing |
| Customer Relationship Management | Ethical Leadership |
| Benchmarking | Public Speaking |
| Quality Management | Business Writing |
| Malcolm Baldrige Award | Negotiation Skills |
| Process Improvement | Communication in Organization |
| Risk Management | Motivating Others to Perform |
| Core Competencies | Personal Strategic Planning |
| Mentoring and Coaching | People Skills |
| Career Advancement | The Abundant Life |
Would you like to book a speaker for your organization? Let's Talk