Donald's discernment and practical ability to apply strategic concepts have added great value and been very helpful to move our company to end results faster.
Jim Hudson, CEO
July Business Services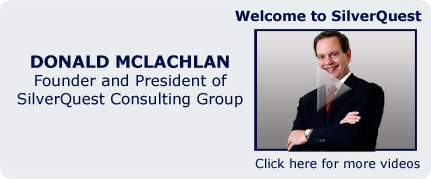 SilverQuest Consulting Group, a global professional services firm, partners with commercial, government, and non-profit clients to deliver strategic planning and business transformation solutions. We help our clients identify the most compelling opportunities, overcome the most difficult challenges, and achieve the most extraordinary results.
OFFER FOR THREE HOURS OF FREE ON-SITE CONSULTATION
If you are ready now to explore your best opportunities and extend the horizons of your organization's future, I will gladly meet with your Senior Leadership Team on your site anywhere in the world for three hours of strategic evaluation. I will also create a brief written report based on the evaluation. There is no charge for this service or additional obligation. I only ask that you pay my travel expenses. For more details click here.